Types Of Watch Straps For Your Watch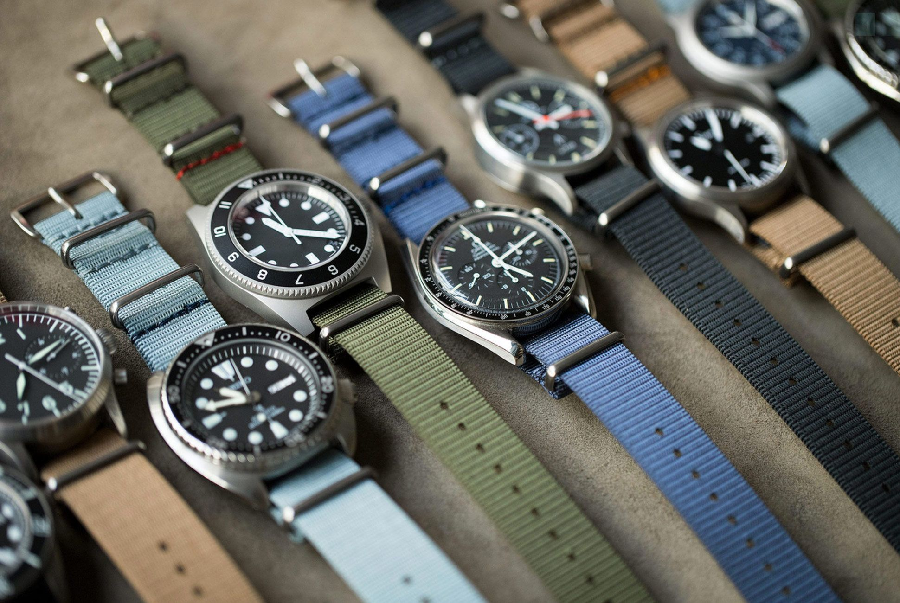 The very definition of a "wristwatch" is precisely what is fundamental for the watch to exist as such and to be worn on the wrist. The other important characteristic of a bracelet is that it usually defines the watch's style by its color and type of material. Suppose we are going to practice physical activities such as fitness, running marathons, or water sports. In that case, it is not the same if the strap is made of metallic materials or made of rubber, silicone, or resin. Here are the most common materials that you can find in watch straps to choose the one that best suits your needs.
Leather Watch Straps
Leather watch straps can be a good choice for a dress watch, as they add an extra touch of style that goes perfectly with any outfit. There are leather watch straps of different colors and other qualities; the finest and most elegant are the natural leather ones. Some of the best exotic leather watch straps are the Horus Watch Straps, although synthetic leather also has its advantages.
Genuine leather is usually made from calfskin and has different qualities depending on the dyeing process it has undergone. It is supple, has a soft feel, and its surface looks natural with marks and scars on it.
A quality leather strap tends to age along with the watch and gain marks that make it more attractive over time.
Stainless Steel
The steel bracelets, also called "armis," consist of a set of links joined in different possible ways, thus creating more colorful combinations. This type of bracelets is in great demand because they are inexpensive, lightweight, and maintain their market thanks to the fact that the replacement or change of parts is relatively simple. Steel is a clean material when in contact with water, does not rust, and does not pose any risk for communication with the skin.
Many watch experts consider them to be a hybrid of strength and elegance. Those that are well constructed provide security to the watch with rugged materials. If the watch case is made of steel or other metal, the bracelet will maintain continuity in the design to make the watch look like a single piece. Metal case and metal bracelet integrate very well. Being constructed of links, they allow air to pass through and enable the skin to breathe correctly. The chances of this happening are significantly reduced if the nickel quality combined with steel is lower.
Nylon Watch Bands
Nylon watch bands and other similar fabrics are characterized by their versatility, as they can adopt any design within a wide range of colors. They are also elegant, which is why so many fashion brands use them.
It could be said that they are for a more casual look than the leather ones since they are more colorful. Although depending on the design, they can also be used for the dress. They are also more resistant and lighter.
Although nylon may seem a flimsy material, we must remember that many of the straps used to hold heavy goods are made of this material, given its high tensile strength.
Rubber/Silicone
Although these two materials are very similar, the difference lies in their manufacturing process. Silicone is a synthetic element, and rubber is the result of synthetic and natural components. Rubber applied to watch bands tends to be more durable, resistant to saline water and sweat. Rubber is not an elastic material, so its perception is solid and better withstands scratches. Horus Watch Straps made of rubber is an innovative material of the latest generation, becoming more popular in the men's sports watch market. The advantage of silicone is that it is more economical, softer to the touch, and has elasticity compared to rubber. Silicone straps can crack much more efficiently, and because of their synthetic component, all kinds of particles stick to them more quickly, so they often need to be cleaned to remove these adherents. However, as silicone straps are more flexible, they can be found in a variety of patterns.