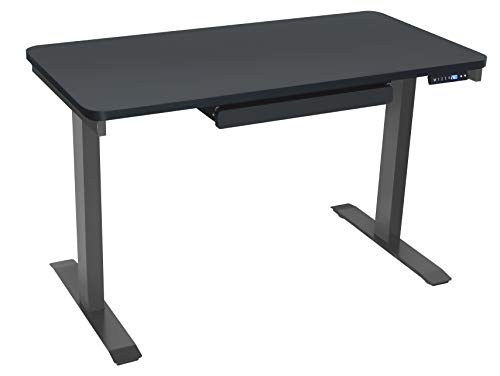 If you are tired of working in the same sitting position all through the day, an electric standing desk could be a great investment. Studies show that standing helps in burning more calories, and by switching from sitting to standing position every now and then, you will be able to manage back pain, fatigue better. In fact, standing desks have been associated with better productivity. Buying your first standing desk can be overwhelming, but there are numerous websites, such as PrimeCables, which offer variety of choices. In this post, we are discussing the basics of buying electric standing desks.
Buying an electric standing desk
Electric standing desks have one advantage over manual standing desks – ease of height adjustment. You can shift between positions with just one button push, and most models do have standard presets that you can check. Below are some of the basic things to consider before buying an electric standing desk-
Start with height adjustment range. Most standing desks have a fixed range for height adjustments, but if you are someone too short or too tall, you may want to consider the range more carefully.
Check the tabletop space. Are you going to use the desk for two monitors? Do you need to work with a lot of files? Do you need a larger worktop in general? If yes, you need to consider measurements of the table space carefully.
Settings and features. The new age electric standing desks are designed to have advanced features, touch panels, and numerous adjustments, and while these desks cost a lot, you may want to review your requirements accordingly.
Think of noise. You don't want a desk that makes a lot of noise while adjustments are being made. Some electric standing desks also take considerable time to shift between positions, and that can defeat the purpose. Make sure the desk motor is not too noisy and is easy to use.
Assembly/installation. Many desks are super easy to assemble, but check in advance if the product you have selected requires additional help. Manufacturers usually have handy manuals, which you can check online too.
Many desks have extended warranty, but look for a warranty of at least six months when you buy an electric standing desk. These products are not super easy to repair, so some assurance from the makers is always handy.
Check and shortlist a few electric standing desks now!