Tip To Be A Good Air Conditioner Technician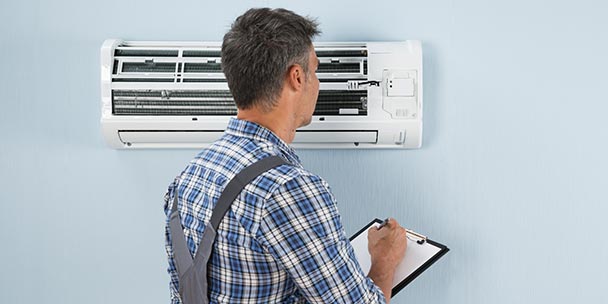 The installation and maintenance of air conditioners require professionals who master the techniques and particularities of each brand and finding the best contractor is also an important task.
The authorized technical assistance of some brands can work as accredited, which guarantees the customer peace of mind by making sure they are hiring a specialist at the time of installation and maintenance, including during the equipment warranty period. Assess the possibility, it can lead to increased work demand, and you can't let the customer wait.
Support accessories: hammer, thermometers, measuring tape, impact drill, pipe cutter, welding apparatus, cold soldering iron, wires and cables, electric extension, lubricating oils, refrigerant gas, cleaning materials, personal protective equipment, such as insulating gloves, rubber boots, rubberized non-slip wooden ladder, among others;
The acquisition of tools and accessories will not be a challenge, as they are found in specialized stores and representatives, with price research necessary for a better purchase.
Some costs are routine and need to be foreseen, especially in carrying out activities at a commercial point, especially: rent, water, electricity, telephone, and internet access.
One of the main qualities of a good job is dedication. Investing in training and taking courses adds professional differentiation and keeps up-to-date with new techniques, methods, and demands that arise all the time. A good practice is reading columns from newspapers and specialized magazines and researching the desired topic through the internet through renowned websites and blogs.
Now, if you are thinking about being a differentiated professional or local company in relation to the market in which you operate, try to provide personalized work according to the needs of each client and establish a plan with special hours that facilitate his/her presence. It is essential to be available. These attitudes expand the possibility of capturing new services and gaining customer sympathy and loyalty. Think about it!
If you need help, you, as MEI, can hire an employee, and ideally, before starting work, he will also undergo training and courses.
In business marketing, social networks such as Facebook and Instagram are essential and complementary tools to leverage the services, mainly due to the ease of access and the low cost involved. All the publication of content, images, and texts, has to be well evaluated, and the client has to realize that the information is helpful to him. Also, post customer testimonials and images of services performed. It is essential to ask the customer for prior authorization to publish the content.
Advertising and publicity for the services can also be done by distributing flyers and business cards in places with a large flow of people. Ads in magazines, neighborhood newspapers, and community radio should be considered. However, the "word of mouth" disclosure is the most effective, which increases the need and importance for the quality of services provided, punctuality, and cordiality, in addition to, of course, having a fair price.
A good relationship management practice is to set up a record with the personal data of customers and the types and models of air conditioning installed. Also, identify the best way to communicate, whether by email, WhatsApp, phone, or in person.